THE WORKING GIRLS OF SOHO – Saucy Tales of Notorious Women
Comedy, songs and naughty stories, direct from Edinburgh Fringe "Camp, dazzling and hilarious"
Wed, 28 September 2022
19:15 – 21:15 BST (7.15 to 9.15pm)
Gerry's Club, 52 Dean Street, London, W1D 5BJ
Ex Sohoite and founder of cult 90's band, Josephine Pembroke of Pussies Galore performs her sell out show talking about the female club runners, strippers, whores and thieves from Soho's past. At the notorious late night member's only drinking bar Gerry's in the heart of Soho. Your chance to experience the real Soho, faded glamour and louche, hilarious stories.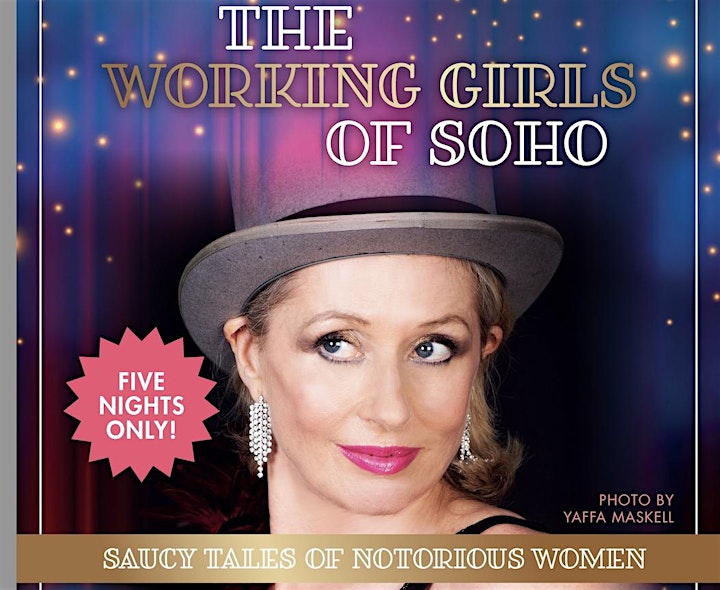 Edinburgh Reviews:
Wit, charm and plenty of sauce! Sophie Parkin – Author of The Colony Room Club
Josephine's show is nostalgic and sometimes mournful, but always defiant. Robert Bathurst – Cold Feet, Downtown Abbey
Josephine's show has all the nostalgia and corrupt innocence of Soho, before the 'clean up.' Richard Stirling -Cecil Beaton's Diaries
Camp, Dazzling, Hilarious – Will, aged 17 Brit School Student
Listen to Josephine on Radio London
Instagram
Facebook
Written by Josephine Pembroke
Director & Choreographer Lisa Mulidore
Musical Director Heather Longman
Piano John Crawford
More Information:
I wish I'd had a life like Josephine's
Jo Good, BBC Radio London
Josephine sang one of my favourite songs I'm still here ….was so moving.
Patti Boulaye, Singer
Josephine led us through some of Soho's rich and colourful history ..and a variety of women – a world which Josephine clearly embraces and in which she is totally authentic. This witty and glamorous show was a heart-warming celebration.
Charlie Mortimer – Author of Dear Lupin